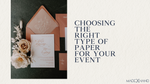 Choosing the right paper stock for your event is an art like no other. The paper you print an invitation on says a lot about you and your brand and speaks volumes about the quality of the event and the caliber of your guests. The right paper stock goes a long way in effectively showcasing your products and services
Settling on Printing Paper
Several considerations go into choosing paper for your brochures, flyers and
business cards
. A number of things influence the paper to use. These include:
The feel and appearance of the paper
Paper weight
Durability
Reproduction quality and printability
Cost of mailing the product
Perception of your business
This blog offers examples of the best paper stock for your event. 
Silk Paper
To give your event an elegant tone, consider using traditional letterpress - a technique that your guests can not only see but also feel. For an extra luxurious feel, try printing on silk paper. This produces a smooth, gloss finish without much shine and features a soft, silky coating. The luxe coating makes it great for magazines, flyers and books. It also works well on posters and leaflets.
Linen, Silk, and Uncoated Cover Paper
To express your brand's image with a luxurious but simple finish, choose between uncoated, linen and silk cover, all of which evoke different emotions and feelings depending on your company's positioning.
Also known as card stock, cover paper is great for business cards, covers, and luxury packaging. It is stronger, heavier and thicker than most other types. It's also available in several colors, a characteristic that allows you to brand it anyhow you like. Cover paper can also be used for booklets, reports and brochures.
Bond Paper
In the past, governments would use bond paper to print documents such as bonds (hence its clever name ;). Today, bond paper is used in a variety of applications due to its durability. 
Bond paper is made from rag pulp, giving it a high-quality finish and feel. You can use it to design luxury printed materials such as reports, letterheads, envelopes, and other documents. Think of bond paper whenever you need robust printing paper that retains visual impact long after printing.
Pulp Paper
For an eco-friendly material, consider recycled pulp paper. It exudes a rustic feel with its uncoated finish. If your company is eco-conscious, pulp paper is a great choice and an excellent way of minimizing your company's carbon footprint.
Brown Kraft Paper
This is another eco-friendly printing paper. It is 100% recycled, making it highly popular among environment-conscious customers and businesses involved in outdoor industries. Combine bold designs and brown kraft paper for vintage-like quality. It provides a perfect balance between text and graphics that results in a stunning piece of art.
Gloss Paper
When you want to print brilliant, sharp and colorful images, gloss paper is the perfect choice, especially if you want the end product to really stand out. It features a shiny finish that makes it great for brochures that require sharp images. It can also be used for catalogs to make both text and images pop.
Brightness and Color
Besides weight, the other important consideration when choosing paper stock for your event is color and brightness. In choosing color, think of one that has less glare, such as off-white. Brightness has a considerable effect on readability. The brighter the paper, the more difficult it is to read what's printed on it, and the less strain on your eye. The paper's brightness depends on how much light it reflects. Low paper brightness can also make text look blurry and illegible.
Paper Coating
Besides the weight and color of paper, the next important consideration is coating. There are two choices here: coated (glossy) or uncoated paper. The type of paper coating you choose will determine how the end product will feel to the touch. Choose coating on both sides of the paper or on just one side. You can choose matte, semi-matte, gloss or silk coating.
A Few Questions To Ask When Choosing Paper
What type of product are you creating?
The end product should determine the type of paper to use. For instance, if you want to print business cards, books, flyers, and posters, consider the impression you want your finished product to leave on the users. Will they need a more creative, edgy letterpress product, or will the traditional paper do?

Is Durability a Critical Thing?
A flier announcing a special event should be less durable than paper stock for a business card; and a book should be printed on more durable paper than the latter. The durability of the end product should determine the type of paper you choose.
What Will Be Printed On It?
A decision to include or omit photos from a document can also influence the type of paper stock you settle for. Will it be a text-dense document, or are there going to be colored photos on it? The wrong choice of paper could leave you with a compromised end product and negatively represent your business or event.

Choosing the appropriate type of paper for your event or end product is critical when printing. Whatever you need to say in a business card, an invitation, a poster, or whatever, the right paper stock will help share your message effectively and appropriately.